Staffing 
Boolean Staffing Solutions provides one of the most advanced and professional staffing solutions in India for temporary, regular staffing. Our access to a large database of staffing resources is backed by time-tested HR management system that makes your deployment of staffing a pleasure.
Boolean has a client retention rate of 90% across sectors such as NBFC, BFSI, IT/ITES, Retail, Telecom, E-commerce, FMCG, FMCD, Pharma, Logistics, and much more!! This has been accomplished by providing the greatest staffing solutions in India.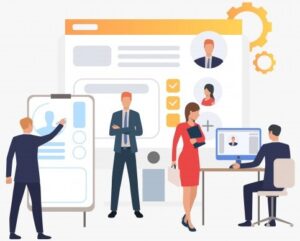 Across the nation, Corporate may be big or small are struggling to deal with increased government regulations and volatile market demand. When things are not sure, companies may not want to hire permanent employees. However, when it comes to organisations' need for the flexibility of an agile, on-demand workforce that is able to run their businesses exactly how they want, temporary or contractual staffing in a timely manner is the best option. Boolean Staffing Solutions offers reliable temporary staffing solutions that allow company to expand staff strength without hiring full-time employees, assist overburdened employees during critical times, and keep projects moving smoothly. We are one of India's top contract staffing firms, providing full-service, cost-effective, and efficient Human Resource Management services to companies who lack the expertise or inclination to perform these labour-intensive activities. When clients choose us as their temporary staffing consultant, we provide the same level of support as their in-house HR department, but without the hassles and tedium.
We are offshore market specialists, having worked with some of the world's largest and most reputable energy corporations to provide contract staffing solutions all around the world. We've put technical engineers on offshore projects throughout Africa, the Americas, Asia, Australasia, and Europe, among other places, over the years.
Blue Collar Staffing's mission is to provide qualified, temporary and temp-to-hire labour in the construction, warehousing, moving, and transportation industries, as well as other areas in need of "blue collar" workers, in a competent and professional manner throughout Calgary and the surrounding area. Our company maintains a database of qualified workers of all levels (labourers to highly skilled).
In a collaborative, forward-thinking endeavour, Boolean is capable of delivering the qualified individual. This approach helps both the person who is placed and the companies to whom they give services.
REQUEST A CALLBACK
We look forward to doing great things with you